Here are what some of our customers are saying!
Some of the names have been changed for privacy purposes.
These guys did such an amazing job for us. I am so impressed by the creativity, extensive tree knowledge and customer service we got when we hired Vanderbeck Tree Experts. We worked with the team to come up with our vision and they really exceeded our expectations. We love how the trees changed transformed our landscape and gave our home the perfect amount of privacy. We did our first tree planting with them about one year ago and the service has continued through the whole year. The guys even came by and gave our trees some water when we were on vacation one time because they passed by and saw the trees looked thirsty. Excellent customer service. Would highly recommend.
Kelly
– Glen Rock, NJ
Excellent work and customer service. They always answer emails promptly and in detail and are extremely knowledgeable. They do quality work and I would definitely hire again!
Glenn
– Bergenfield, NJ
I want to thank the Vanderbeck team for a great job yesterday. The team is very professional and takes pride in their work and are very considerate of their clients. I was so thankful that they were able to cut up some of the larger pieces for firepit wood. The team has the knowledge and they do not try to oversell their services. I found this very admirable and would be happy to tell my family and friends to utilize their services. We would definitely call on them again should our trees need pruning or removal.
Alice
– Pompton Lakes, NJ
I purchased a house that had a very large (and neglected) tree in the front yard. It wasn't an easy task taking it down as it leaned over a couple houses and had several utility lines around it on all sides. I called around for some estimates and Vanderbeck was inline with the others. I hired them because I felt comfortable with their level of professionalism and they had positive feedback from other reviewers. I wanted the tree down as soon as possible and they bent over backwards to make it happen. This is a family business, they work well together and their equipment is quite impressive. I was very satisfied with the service they performed.
Donald
– Oakland, NJ
Today, The Vanderbeck Tree Service did an an amazing job clearing a dead tree, and heavy branches from our back yard. They were professional, clean, and did a fabulous job. My husband and I could not be more pleased. I just want you to know I would happily recommend your company to our friends and family.
Bonnie and Brian Walsh
– Oakland, NJ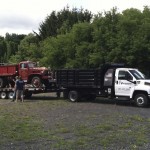 To our friends at Vanderbeck Tree Experts:
On behalf of the Franklin Lakes Fire Department we wanted to thank you for your gracious generosity to our department for donating the use of your truck, trailer and personnel to transport our antique fire truck from Syracuse N.Y on July 21. It was a long day which started in Franklin Lakes before 5am didn't end until the late afternoon. The trip logged almost 500 miles and thanks to you, our antique truck was transported safely AND with no cost to our department. Your organization's service to the public is recognized and appreciated.
Brian Dalton, Corresponding Secretary
– Franklin Lakes Fire Department
Thank you so much for being so generous and accommodating with the woodchips we requested. The project I mentioned to you was completed this past Friday and it looks fantastic. I like to make it a point to show the community how appreciative we are of the local businesses that support us and although I don't have specifics; I plan to make sure our supporters are aware of how kind you have been.
Director, Ramapo Bergen Animal Refuge
– Oakland, NJ
Thank you so much for rushing to my aid with the fallen tree branch. Given how busy you were with the remnants of the storm, I want you to know how much I appreciate your efforts on my behalf.
Barbara
– Franklin Lakes, NJ
Thank you for being such a good friend to our First Aid Squad. We appreciate your trimming the trees at our building and thank you!
Oakland First Aid Squad
– Oakland, NJ
Thank you for coming out in the middle of the night last Saturday to take down the trees that had fallen during the terrible wind storm we had. Your promptness in coming and your expertise especially in taking down the tree that had fallen on the electrical wires are very much appreciated.Your love for this church and for the Lord are evident, and your help was tremendous. Thank you very much!
Hawthorne Gospel Church
– Hawthorne, NJ
The Board of Trustees would like to thank you for your recent removal of dead trees from the church property. We also wish to thank you for the professional trimming of many of our healthy trees. We realize that the above effort was under contract but you went far beyond the commitment when you assisted us in our fall clean-up. Thanks to you and your sons we were able to accomplish far more than we could have done on our own. May the Lord bless you for your kindness.
Grace Bible Church
– North Haledon, NJ
Not only did I want to write this letter for your son, but I also wanted to take this time to thank both of you for your neighborly kindness and concern. It is so nice to see that people, especially a family owned company, can offer such acts of kindness. Pardon me for saying, but it is not common in this area for people to give to care the way your family has. Being a Christian you have helped restore my belief that there are truly kind people still in this world and "Do onto others that you would do for yourself". I thank you again for everything and you can count on hearing from me and my extended family in the future.
Resident
– Wyckoff, NJ
Yesterday, when I came home, I was amazed at the work you did on my lawn, leaves, and stump. What a beautiful job of handling all those projects. It was like a weight was lifted off my back. I don't think you realize how much you ministered to me when you did these jobs and did them so well. The yard looks terrific! Thank you very much for your overwhelming kindness. Certainly the apostle Paul was right when he wrote, "We are laborers together with God."
Don
– Wyckoff, NJ
You recently removed an apple tree from my yard and did some pruning to my oak tree.I just wanted to compliment you on the quality and timeliness of the work done and say how satisfied I was with the work.
Resident
– Ridgewood, NJ