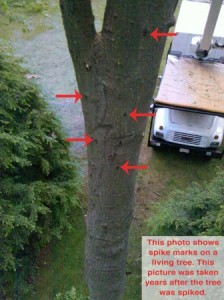 A lot has been going on in my life recently. The business is growing, I'm getting married, and I've started the stressful task of finding a house. Looking for a house changed my outlook on a lot of things. It has sure changed my interest when it comes to television. I notice myself watching DIY network, and HG TV a lot. One of my favorite new shows in Holmes on Homes. If you haven't seen it, it's a show about how a general contractor comes in and inspects a house with many problems. The problems stem from previous contractors doing work on houses and messing up completely. They either do not know what they are doing, or are just cutting corners. Being a CTE, my mind is always on trees. It got me thinking about how many "tree guys" do tree work improperly, and if there was a way to have my own show about the problems I run into. Unfortunately, the show would not be a success because the most of the problems cannot be fixed. I'll explain with a story…
Years ago we gave an estimate to trim trees at a property. This was one of our previous customers, and we have been caring for these trees for 20 years. The homeowner did mention to us that he would be getting other estimates. He was a meticulous man and liked everything perfect around his yard. So by him getting other estimates didn't really bother us. A week goes by and the homeowner says we can go ahead with the work.
We arrived at the property the next week and began are pre-work walk around. The largest tree on the property was a magnificent Oak tree and in need of some dead wood removal. As we walked around back of the tree we noticed the tree was littered with spike marks. We were baffled and shocked! We were the only people who pruned these trees, or so we thought….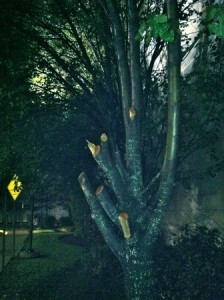 We approached the homeowner with questions about the spike marks. Slightly embarrassed, he told us what happened. He hired another tree company to do the same work we were now doing. The company was substantially lower in price than us, so he figured it was a great deal. When the tree company showed up, they started with the large oak on the property. They spiked it from bottom to top, and realized they were in over their head. The climber repeled down, packed up, and left the job. The tree company never returned.
This story reminded me of what Mike Holmes does. I had come to do a job that another company couldn't do. There is one major difference, I can't undo the damage. The tree has to continue to grow and repair itself. The damage from the spikes will not be visible for years…and after pruning the same tree today, I can tell you that the damage is starting to show.
So what is the moral of my story? My advice would be to choose the right tree company the first time. Tree's are living things, and they may not live through one mistake.
What if Mike Holmes was a Tree Guy?