Q: Do you have insurance?
A: Yes, Vanderbeck Tree Experts is covered by both workman's compensation and liability insurance. A certificate of insurance can be sent to you upon request.
Q: Are you licensed?
A:
 Yes, Vanderbeck Tree Experts is licensed. Every tree company in the state of NJ is required by law to be licensed to provide tree care services.
Read more about it here. 
Q: Do you own your own crane?
A: Yes, Vanderbeck Tree Experts has owned a crane since 2012. We are also certified and licensed to operate the machine.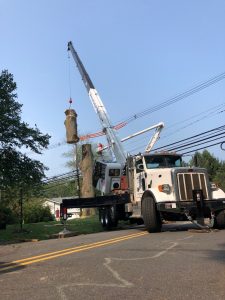 Q: Will heavy equipment be brought on my property? If so, how will it impact my property?
A: We do have a lot of heavy equipment and on occasion they will be driven on the property. When we do this we take every precaution to make sure your lawn will be left virtually damage free. View some of the photos below for examples.
Q: Do I need a permit to have a tree taken down?
A:
 Each town has its own regulations regarding tree removal. The best thing to do if unsure is to contact your local tree commission for details or have one of our salesmen inquire for you.
Q: How soon after an estimate can I have the work done?
A:
 We are a family owned and operated business and we take pride in helping our customers in a timely fashion. If your job needs to be done immediately just let the salesman know and we will work with you to get the work done as quickly as possible.
Q: What are "Tree Spikes" and how do they hurt trees?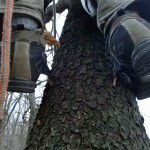 A: Tree spikes, or climbing spurs, were designed to help tree climbers climb trees faster and easier. Unfortunately, tree spikes penetrate the tree's living tissue and cause unnecessary damage to the tree. The most crucial living tissue of a tree is a small layer just beneath the bark. Tree spikes should never be used when doing any activity in a tree other then tree removal.
For more information please refer to the Ben's Blog Post; Tree Spikes, Climbing Spurs, Tree Gafs: Just the Facts.
Is your question not listed?
Ask your own question! Just follow the link the the right and someone will get back to you!